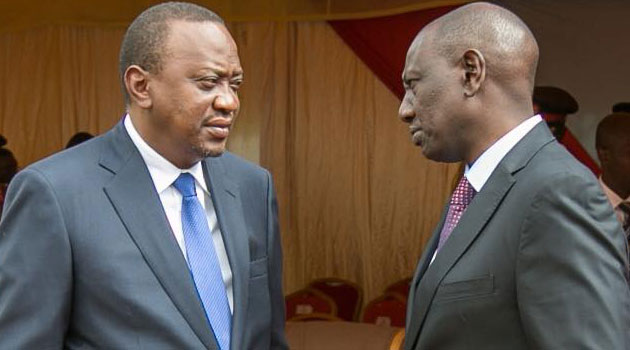 President Uhuru Kenyatta has explained the purpose of the handshake which has been causing ripples in the Jubilee Party.
Speaking on Friday, President Kenyatta said that the handshake was not aimed at hurting anyone politically contrary to claims by politicians who said that the handshake would scuttle Jubilee Party.
The Head of State also reiterated his stand on the Building Bridges Initiative and assured Kenyans that the initiative was aimed at bringing the country together.
"There is no political intention of hurting this person or fighting that person, we must come together and deal with these challenges, it is going to hurt every one of us," the President said.
Deputy President William Ruto had accused AU envoy Raila Odinga of using trickery to break Jubilee Party adding that he was sowing chaos in political parties.
The DP saw Mr Odinga's newfound unity with President Kenyatta following their handshake on March 9, 2018, as creating turmoil in political parties.
According to the DP, Mr Odinga is out to divide the Jubilee Party in the guise of uniting the country.
<blockquote class="twitter-tweet" data-lang="en"><p lang="en" dir="ltr">Nyeri MP says Ruto must genuinely support handshake between Uhuru and Raila and war against corruption <a href="https://t.co/zXkcdWBEfY">https://t.co/zXkcdWBEfY</a></p>&mdash; The Star, Kenya (@TheStarKenya) <a href="https://twitter.com/TheStarKenya/status/1110995028665602048?ref_src=twsrc%5Etfw">March 27, 2019</a></blockquote>
<script async src="https://platform.twitter.com/widgets.js" charset="utf-8″></script>
<blockquote class="twitter-tweet" data-lang="en"><p lang="en" dir="ltr">Raila is not a fool to be glued on the &quot;handshake&quot; if its not helpful to him, Ruto cannot beat Raila if not supported by Uhuru, Kenyatta family has no faith with Ruto being President, he can&#39;t protect their business/wealth, let&#39;s not live in denial and blindness.</p>&mdash; Gideon Kitheka Jnr. (@Gideon_Kitheka) <a href="https://twitter.com/Gideon_Kitheka/status/1111326255318736896?ref_src=twsrc%5Etfw">March 28, 2019</a></blockquote>
<script async src="https://platform.twitter.com/widgets.js" charset="utf-8″></script>
<blockquote class="twitter-tweet" data-lang="en"><p lang="en" dir="ltr">Media: Raila is right now the closest person to President Uhuru<br><br>Also Media: DP Ruto is an isolated man following the Handshake<br><br>Uhuru: Even if you are my closest political ally…<br><br>Media: The President was referring to William Ruto<br><br>Spinning and Self-contradiction 101<br> <a href="https://twitter.com/hashtag/NewsGang?src=hash&amp;ref_src=twsrc%5Etfw">#NewsGang</a></p>&mdash; Exotic Scouse (@GodwinLangat_) <a href="https://twitter.com/GodwinLangat_/status/1111351963520851969?ref_src=twsrc%5Etfw">March 28, 2019</a></blockquote>
<script async src="https://platform.twitter.com/widgets.js" charset="utf-8″></script>