Barack Obama has visited Iowa eight times this year, including this trip to Morningside college in Sioux City earlier this month. Photograph: Pablo Martinez Monsivais/AP
Swing state may only have six electoral college votes, but both campaigns are fighting for them – with very different strategies
BY: Ewen MacAskill in Des Moines for the guardian.co.uk,
Rick Wilkey knocked on the door in the affluent neighbourhood of West Des Moines, Iowa. Four years ago, when the Barack Obama campaign volunteer talked to voters about the candidate's hope-and-change message, he was greeted with yelps of excitement. This time, it's very different.
The man who opened the door looked disdainfully at Wilkey and his bright-red "Fired Up" Obama shirt, a souvenir from the 2008 campaign. Wilkey got only slightly into his introduction – "I am from the Obama campaign … " – before he was cut off. "I want you to leave my property immediately. I hate that son-of-a-bitch," the man said, before closing the door.
It is hard work being a volunteer in the swing states where the Obama and Mitt Romney teams are grinding it out district by district, street by street. With six weeks still to go to the election, the focus is shifting is to the ground game: which side is going to prove better at getting its support out.
And in Iowa, that is shaping up to be a more closely fought contest than expected. It is one of eight swing states that could help decide the election. The most recent poll, by Rasmussen, gives Obama a two-point lead, while one by NBC/WSJ last week had him up by eight. Both campaign teams on the ground describe it as tight.
Obama and Romney are devoting serious amounts of time and resources to the state. The president has made eight trips this year, including a three-day bus tour, unusual for an incumbent. Romney, since the end of the Republican primaries and caucuses, has been here eight times. Last Monday, both vice-president Joe Biden and his Republican challenger Paul Ryan were campaigning in the state.
All this is extraordinary in a state that can contribute just six electoral college votes as the candidates aim to get the 270 required for victory. But for Romney, who has failed to overturn Obama's national poll lead or to break through in any of the major battleground states, winning Iowa is crucial.
For Obama, part of the reason is his emotional attachment to the state. It provided the launchpad for his White House bid, first with his surprise caucus victory over Hillary Clinton, in January 2008. In November that year, in the White House race, Iowa again delivered for him, giving him a huge 9% majority over Republican John McCain.
And the grassroots strategy that delivered victory last time is what gives Obama the edge over Romney now. The Democrat won Iowa in 2008 with a game plan that established a network of offices across the state, a mixture of paid staff and volunteers that dwarfed the efforts of Clinton and later McCain. In addition, his team created a sophisticated data bank to identify supporters. The offices behaved like community centres, inviting various demographic groups to come in to discuss their problems.
In 2012, the Obama campaign has 67 offices round the state, more than in 2008, and has an estimated 120 full-time, paid staff, as well as thousands of unpaid volunteers such as Rick Wilkey. Romney has only 13 offices and fewer staff: 25 full-time employees in its headquarters in Urbandale and at least one in each field office.
Wilkey works out of Obama's West Des Moines campaign office, a rented space in shopping mall. Inside, amid the maps and coffee cups, is a portrait of Obama as Superman and a calendar listing the days remaining to the election.
Wilkey, a 72-year-old former Des Moines city manager and businessman, is a precinct captain, as he was in 2008. He co-ordinates the weekly meeting with other volunteers to discuss canvassing and manning the phone-banks. He saw the inauguration of JFK in 1961 and was inspired, but that marked the end of his political involvement until he met Obama early in 2007.
He is not among the disillusioned. "I still support Obama, even more strongly than I did, because the choices are more stark, because his opponents are Romney and Ryan," he said.
Wilkey, who puts in between 10 and 15 hours a week, added: "I think the most important thing is getting the ground vote out. There are 2,000 precincts in Iowa. In 2000, Gore won by 4,000: that is an average of two votes per precinct. In 2004, Bush won by 10,000 votes: that is an average of five. These small margins show the importance of precinct level organisation."
He spent three hours canvassing in and around 57th and 58th street, in West Des Moines. He said he had not found any "enthusiasm gap" among Democratic supporters
He had a list of 46 homes where he hoped there would be potential Democratic voters. About two-thirds were not at home. Of the 14 homes where he received a response of some sort from the people inside, seven people said they will vote Obama, six Romney, four declared they were undecided and one would not say.
One of the undecideds was Ron Myers, 68, who was working as a handyman after losing a senior job in publishing. He backed Obama last time but will not make up his mind until the final week. One of the issues for him is the size of the national debt, which tends to be one Republicans become more upset about than Democrats.
Among the Obama supporters was Terri Lentz, 57, a speech language specialist, who thinks he deserves more time in office. "I do not think Obama has had enough time to make the changes he has to, to clear up the Bush mess," she said.
Then she added: "I am hoping Obama wins but I do not think it is a slamdunk by any stretch."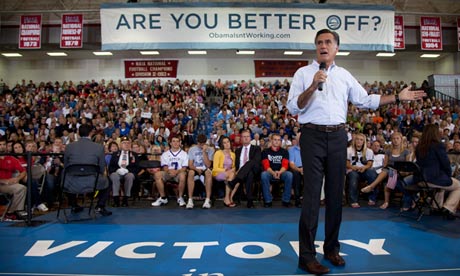 An Orange City crowd watches Romney speak on September 7. The Republican strategy is very different from the Obama one in Iowa. Photograph: Evan Vucci/APThe Obama ground campaign has secured an early success. It already has 80,000 requests for early ballot papers, compared with only 11,000 for Romney, figures confirmed by independent state officials.
The Romney team is dismissive, saying early voting is not part of its game plan. The Democrats are just registering for early voting people who would have voted anyway. The Republicans say they are more focused on reaching people who might not vote.
The Republicans counter with figures of their own. In the 2008 election, the number of registered Democrats outnumbered Republicans by more than 100,000. The figures produced this month, again independently confirmed, show the Republicans ahead, with 620,868 to the Democrats 602,636.
The Republican strategy is very different from the Obama one. Instead of the slow build-up of support through a network of offices over many months, the aim is to blitz the ad market in the final weeks. Based on what they say is past experience, they expect Republicans to come out in bigger numbers on polling day.
Although it has fewer offices than the Obama team, the Romney headquarters at its headquarters in Urbandale on the outskirts of Des Moines had a steady stream of volunteers passing through over the weekend.
Shawn McCoy, Iowa communications director for the Republican campaign, argues that what could be decisive is disappointment with Obama. "This state should not be competitive. He won by 9.5% in 2008. This shows a lot of his voters have left him. It was easy to get caught up in the 'hope and change'."
They have volunteers out knocking doors too, though not as many as the Obama campaign team. They concentrate on working the phones. In its headquarters, it names a volunteer as holding the record for most calls in a day, more than 600.
McCoy envisages a scenario in which Romney wins all of the swing states in the east and when it is the turn of Iowa, which is on Central time, with polls closing an hour later, the state could be the one that tips him into the White House.
"This was the state that launched him and now it is the state that will put Mitt Romney into the White House," McCoy said.