Serena Williams. Photograph: Patrick Fraser
From Serena Williams and her unbeatable serve, to the pianist with the fastest fingers in the world and the man who learnt Icelandic in a week, Emma John tracks down five people whose powers are out of this world
BY: Emma John for The Observer,
Serena Williams: the tennis player whose serve smashes records
It's in the serve. Serena Williams may have won 30 Grand Slam titles, 46 women's singles titles and four Olympic gold medals, but if you want to understand why she stands head and shoulders above her rivals in tennis, just watch the explosive moment at the start of a point as she propels the ball towards her opponent at up to 109mph.
To Williams, it's a mystery to her how she generates such incomparable power. "Actually," she remembers, suddenly, "when I was younger Billie Jean King said, 'You have a great serve, it's so natural,' and I thought, 'Really? Cool.'" Williams's serve has since become the most talked-about part of her game, and the most feared by her opponents. This year at Wimbledon she broke the record for the number of aces in a tournament (102), and put a record 24 past the world No 1 Victoria Azarenka when they met in the semi-final. "Yeah, I feel like that kinda just started," she says. "But I never hit my serves very hard. Like, I can hit it hard, but I don't normally hit it super hard."
You wonder what would happen if Williams did hit it hard. Her serve is already as fast as the average serve on the men's tour and her second serve is regularly quicker than Andy Murray's. Coaches and experts concur that it is the best serve the women's game has ever seen, and Pete Sampras, who Williams modelled herself on when younger, has described it as "flawless".
Most astonishing is that Williams's raw strength is all natural, and not the result of hours in the gym. "No, honestly, I was born like this," she says, in a laidback drawl. "To this day I don't lift weights and I never have. I probably never will." She thinks she inherited good genes from her parents – they're both tall – but her physique has developed in a very different way from her sister Venus. In fact, Serena says she used to be the less powerful of the two. "When I was younger, I honestly would hit so soft," she says, recalling the days she and Venus honed their skills on the cracked courts of LA's unsavoury outskirts. "I was really small for my age, and it took me a long time to grow big and to grow strong. I think that's kinda helped me learn to fight, you know what I mean? I learned to fight and be mentally stronger."
Williams is happy to be seen as a "power player", although she doesn't think her own game is that different from that of her sister. "I'm more stubborn," she admits. "If you have a great shot then I want to hit to your great shot. So Venus is… eesh… a little smarter."
So will we see her recreate the famous Battle of the Sexes, when Billie Jean King took on Bobby Riggs (and won)? "Maybe one day," she smiles. "But I don't think I'm ready yet!"
Tom Sietas: the diver who can hold his breath for 22 minutes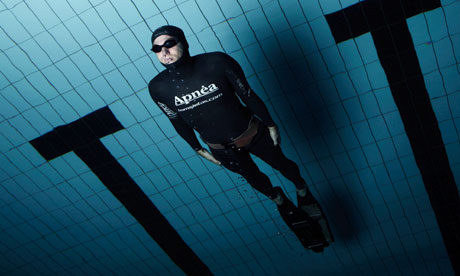 Tom Sietas. Photograph: Robert EikelpothFor Tom Sietas, thinking is the enemy. Thinking uses oxygen – something he simply can't afford when he's suspended under water for considerable lengths of time. "The more emotional your thoughts, the worse it gets," says Sietas. "So if you think about the last fight with your girlfriend, your heart rate goes up."
Freedivers are known for mastery of both their body and their breathing, but Sietas's abilities are in a league of their own. Since he began his freediving career in 2000, Sietas has redrawn human boundaries in dynamic and static apnea – holding your breath while swimming or stationary – and broken 22 world records, most of them his own. For his last feat, in May, he took to a water tank and held his breath for 22 minutes and 22 seconds, beating his own record by five minutes.
The 35-year-old from Hamburg had no idea of his capacities until he left school. "IÂ was always attracted to the underwater world when I was a child," he says, and a gap year in Jamaica was his indoctrination into the diving world. "It was basically all I did, going to the sea and trying to see some rays or whatever beautiful fish I could find. My scuba instructor discovered me diving very deep and he told me there was a sport I might be interested in. And after two or three years, I could increase [holding my breath] for so long, like nobody else on the planet. IÂ was surprised!"
The science behind freediving is still relatively undeveloped, but Sietas's lungs are 20% larger than those of the average man of his size, and the fact that he is also relatively slight – meaning he does not have to get a lot of oxygen to his muscles – also helps. More important, seemingly, is his ability to relax his body at will. What does he think about while holding his breath for 20 minutes? "You focus on the muscles themselves, lose any tension, accept the urge to breath – find it enjoyable if that's possible." He has even been known to fall asleep while underwater. "I don't know if it's special," Sietas says with a modest shrug, "but the more difficult the situation gets the calmer I get."
There have been a few close calls: once, when diving alone in a lake near Berlin, he lost touch with his orientation rope and found himself several metres down, lost, and "really scared"; another time, off the coast of Egypt, his weight belt failed to detach and there were only two options – free himself or drown. Luckily, he managed the former.
The next world-record attempt is on hold while Sietas finally finishes his studies – he plans to qualify as a metalwork teacher. Until then, his breath-holding skill has a rather more modest application. "It's very useful in a public bathroom," he says.
Judit Polgár: the girl raised to be a chessmaster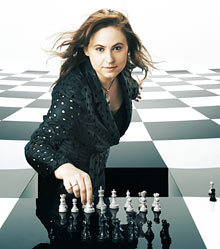 Judit Polgár. Photograph: Phil FiskJudit Polgár's father had a theory. An educationalist in Soviet-occupied Hungary, László Polgár was convinced that genius was made, not born. So he decided to demonstrate it, taking his three daughters out of school and concentrating them, from a young age, on a particular specialist subject. The subject was chess: and Judit became his proof. The 36-year-old is now the greatest female chess player of all time and the only woman ever to reach the top 10 in the world rankings.
As Judit points out, László himself was no chess prodigy. "As a teacher, he was good for only a very short time!" she laughs. "But they are genius pedagogues, my mother and father. They know very well how to convince, to lead the child in a way so that we were happy playing. And little by little we got more serious." Judit and her older sisters began by playing just 10 minutes of chess a day; by the time she was 12, it was 10 hours. Then in 1991 she broke the then record to become the world's youngest grandmaster, at just 15.
Her most significant legacy has been to explode the myth that men are "naturally" better than women at chess. During Judit's career she has inflicted defeat on Boris Spassky, Garry Kasparov, and nine world champions. "When I started playing, there was an even bigger gap between men and women in chess than there was in most physical sports," she says. "Generally it was not accepted that women are able to reach the same level. Obviously I don't agree… and I showed them that I'm right."
The family were ostracised both by the Hungarian chess federation and the Soviet government for their unusual methods. "There were so many difficulties that it made us very happy for every small result that the other one achieved," says Polgár. Judit now has children of her own, and works with schools charity CSC, as well as having her own foundation. But she's not taking her children down the same path her father took her. "I can't really advise people this is the way to do it," she admits. "My parents had to give up their own profession to care only about us. My children only play for fun now."
Judit Polgár will compete in the London Chess Classic 2012 from 1-10 December (chessinschools.co.uk)
Daniel Tammet: bestselling author and autistic savant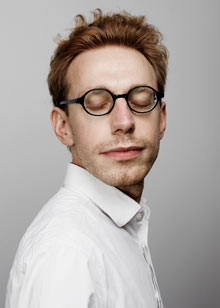 Daniel Tammet. Photograph: Patrick Swirc"I don't want people to say: 'Wow, this person is a genius,'" says Daniel Tammet, "because it can be very lonely being a genius. And I've struggled so long with loneliness in my life, IÂ want to reach out to people."
That "reaching out" is the starting point for Tammet's award-winning writing, which explores how it feels to be a high-functioning autistic savant – a person who has extraordinary abilities of memory, mathematics and language. The 33-year-old from east London has memorised pi to 22,514 decimal places, can perform lightning arithmetical calculations in his head, and once learned Icelandic in a week. They're not achievements he likes to boast about. "It's only a very small part of the story," he says, "and outside of the context it makes me sound almost freakish."
Instead, Tammet prioritises his writing talent, so he can communicate the unusual synaesthesia he experiences – he both "sees" and "feels" numbers as unique entities – and help scientists and his readers to understand more of the way the mind works. He has been called the "Rosetta Stone" of savantism, and his award-winning book, Born on a Blue Day, has been translated into 23 languages.
Growing up in "a very poor working class" part of London, Tammet had eight siblings and describes his upbringing as "extremely lucky, in a way. If I'd been a single child I'd have been spoilt rotten, perhaps, and it wouldn't have done me any good at all. If I'd been born into a family where they played piano and practised chess all the time I might have become one of those wunderkinds, but I wouldn't necessarily have been happy."
He now lives, very happily, in Paris. He loves France because "there isn't such a boundary between literature and mathematics there… mathematicians write novels, and that crossover inspires me." In fact, being misconstrued as a brilliant mathematician is one of the clichés he most longs to avoid. "Mathematics is abstract, and abstraction is even more difficult for people in the austistic spectrum. I can't do algebra at all!"
Thinking In Numbers by Daniel Tammet is published by Hodder & Stoughton, £18.99. To order a copy for £15.19, including UK p&p, go to guardian.co.uk/bookshop or call 0330 333 6846
Yuja Wang: the pianist with the fastest fingers in the world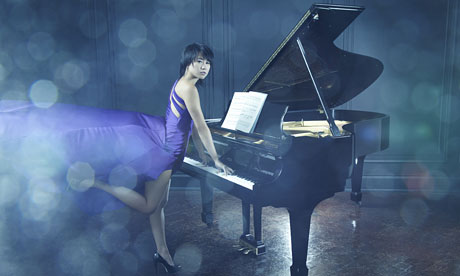 Yuja Wang. Photograph: Neil WilderIf you want to see the fastest fingers in the world, you don't need to hang out at a John Wayne filmathon – just look up Yuja Wang on YouTube. The 25-year-old has been called the most gifted pianist in the world, and it's thanks to her extraordinary, quicksilver hands. Critics have hailed her "jawdropping dexterity" and "athletic prowess", describing her as a "phenomenon". One wrote rapturously of her "long, slender fingers" before admitting – "at least I think her fingers are long… they moved too fast to tell."
Wang laughs – her hands are actually, she says, quite small. "Yeah, I hear that a lot," she giggles. "But I don't think of how fast I'm playing when I'm playing. Perhaps it's a visual illusion thing, because I'm really petite, so when I play those big Russian pieces, it's really physical – I have to move quicker than other people. Maybe it looks more impressive."
She's being modest. Wang's skills are in demand from the world's leading conductors – Daniel Barenboim, Michael Tilson Thomas, Charles Dutoit – and she plays with orchestras from the London Philharmonic and the Berlin Staatskapelle to the Boston Symphony. Evgeny Kissin has said she is as technically proficient as the world-renowned Lang Lang, and Wang, who hasn't heard this before, is instantly thrilled – "I really admire him, he was my idol in my childhood!"
She grew up in China with a dancer mother and percussionist father, and started playing the piano when she was six. Within half a year she was on stage. "I didn't practise that much, but I progressed pretty fast," she admits. "It just seemed that everything was easy." She went to the Beijing Conservatory and, at 16, having moved to New York, was signed to Deutsche Grammophon.
Since then both her fashion sense – Wang rocks some fabulously sexy outfits on stage – and her fearless demeanour have become a trademark. "I fake really well!" she says. "Sometimes those big concertos are very strenuous and it's emotionally exhausting. I always get nervous before a concert but I look really cool. It's the biggest deception."
And what about those extraordinary hands – do they need special attention? "Yes, it's easy to overwork them," says Wang. "My solution is to go for a massage."