Hugo Chávez kisses a crucifix during a national broadcast in which he names Nicolás Maduro as his successor after saying his cancer has returned. Photograph: Reuters
Venezuelan leader designates vice-president, admitting he may be unable to return to office after further operation in Cuba
BY: Virginia Lopez in Caracas for The Guardian,
The Venezuelan president, Hugo Chávez, has for the first time designated a successor, after admitting he needs to undergo another operation for cancer and may be unable to return to power.
Chávez is to return to Havana to undergo surgery for a fourth time and said in a broadcast late on Saturday night that he wished his vice-president, Nicolás Maduro, to be his successor.
The announcement comes two months after the charismatic leader, who had declared himself free of cancer in July, was re-elected for a fourth term in October by a comfortable margin.
"There are risks. Who can deny it?" said Chávez, seated at the presidential palace alongside Maduro. "In any circumstance, we should guarantee the advance of the Bolivarian revolution."
Chávez's announcement of the man he believes should succeed him has raised the question of whether he will return to office.
"I hope to give you all good news in the coming days," said Chávez, who kissed a crucifix. "With the grace of God, we'll come out victorious."
According to the Venezuelan constitution, if the president is declared unable to govern within the last two years of their mandate, the vice-president must step into their place until the term is over, and elections must be called at the end of this period. The presidential term limit ends on 10 January, when Chávez is scheduled to be sworn in for his fourth term in office.
But if the president dies before taking office, a new election must be held within 30 days. "In that scenario, which under the constitution would require presidential elections to be held again, you all elect Nicolás Maduro as president," Chávez said. "I ask that of you from my heart."
"He's one of the young leaders with the greatest ability to continue, if I'm unable to … continue with his firm hand, with his gaze, with his heart of a man of the people," Chávez said.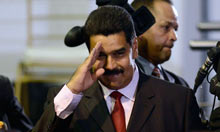 Venezuela's vice-president, Nicolás Maduro. Photograph: Leo Ramirez/AFP/Getty ImagesMaduro, whose political career began as a trade union leader for bus drivers in the 1980s, is one of the founders of the Movement of the Fifth Republic – the precursor to today's PSUV, Chávez's political party. He has risen steadily through the ranks since Chávez came to power in 1998. From regional co-ordinator during Chávez's first presidential race to congressman, Maduro subsequently served as president of the assembly until 2006 when he stepped aside to serve as foreign minister.
As vice-president, Maduro is seen by some as responsible for some of Venezuela's most radical, anti-imperialist foreign decisions, and strengthening the country's ties with Libya, Syria and Iran. To others, however, the 50-year-old is the gentle conciliator behind the remarkable turnaround in previously hostile relations with Colombia over the last two years.
But some feel that if Maduro is to become the next in line, he would need to be legitimised by the party in internal elections and by the voters at the polls.
Nicmer Evans, a professor of political science at the Central University of Venezuela, said: "I didn't hear the word successor being used last night. I think this political language is another attempt by the opposition to sell this process as if it were a dictatorship. Chávez made his wishes heard but it is up to the people to decide if Maduro truly has what it takes to continue the revolutionary process that the president began."
Javier Corrales, professor of political science at Amherst College, Massachusetts, said: "The fact that Chávez appeared on national television to clearly designate Maduro was his effort to avoid an internal war. He wanted to leave no doubt, for the whole nation to see and for no one to doubt his wishes.
"Chávez has saved Maduro from what would have been his first potential crisis – internal competition for the job. The next crisis he will face will be the election. Maduro has never run for office, so we have no way of predicting how he will do. He needs to turn into a presidential candidate immediately."
Regardless of who Chávez's potential successor might be, Saturday's announcement marks a defining moment in the country's political future.
Evans said: "This is a determining moment. The gravity of his health forces us to hold this debate publicly for the first time. We have to reflect on what will happen if Chávez is not present, and new strategies, directions and leaderships have to be defined within the PSUV. This opens the door so that we may pass from the stage of a one-person leadership to a much more collective vision within the revolutionary process."
The transition and the possibility of elections early next year are seen by members of the opposition as their latest chance to come to power.
Ramón Guillermo Aveledo, president of La Mesa de la Unidad (MUD), a coalition of opposition parties, said: "We are in a better position than the government. We are better because we have rules and because the MUD has a space where we can reach a consensus. This new cold doesn't catch us without a handkerchief. We are part of a unified front that has a clear goal in mind: the country's future."
But whether the opposition will rally again behind Henrique Capriles, the 41-year-old lawyer who ran against Chávez in October, remains unclear.
A poll last year indicated Maduro would not win an election against Capriles, but this could easily change if MUD divides.
For the time being, Chávez supporters, including Diosdado Cabello, president of the national assembly, whom many had seen as Chávez's natural heir, seem to be rallying unconditionally behind their leader's message.
"This is a sad day for all of us, but also a lesson," Cabello said. "We need to be strong and have a lot of faith, like Chávez has said, we must remain alert …
"Those of us who love Chávez must do what he says … Our moral obligation is to follow what he says."